The Office of Governmental Relations is the liaison between all levels of government and The Florida State University community. Special emphasis is placed on monitoring the Florida legislative process, from which the University receives a majority of its funding. In addition, the Governmental Relations staff is committed to informing the University community of key legislative issues of interest and impact.
Advocate for Florida State
As we prepare for the 2020 Legislative Session, we invite you to go to visit Advocate for Florida State for updates on the University's priorities and other issues affecting Florida State. Advocate for Florida State will give you the opportunity to express your support of Florida State to state officials. You are encouraged to utilize the Advocate for Florida State website, which simplifies the conveying of your support.
If you have not done so already, please register with the Advocate website. Doing so will also allow the University to more easily keep you updated on issues of importance during the legislative session.
LegisLetter
If you would like to receive LegisLetter notices, contact us to join the distribution.
College of Medicine
---
FSU Day at the Capitol
The annual salute to Florida State's significant contributions to our state will take place on
Wednesday, February 12
10:00 am to 2:00 pm
FSU Day at the Capitol has become one of the most popular traditions during the legislative session, and provides a wonderful opportunity to showcase our University's programs and accomplishments to our friends in the legislature.
Through this event, Florida State is able to emphasize the University's long and proud heritage, and bring attention to the extraordinary achievements of our students, faculty and staff.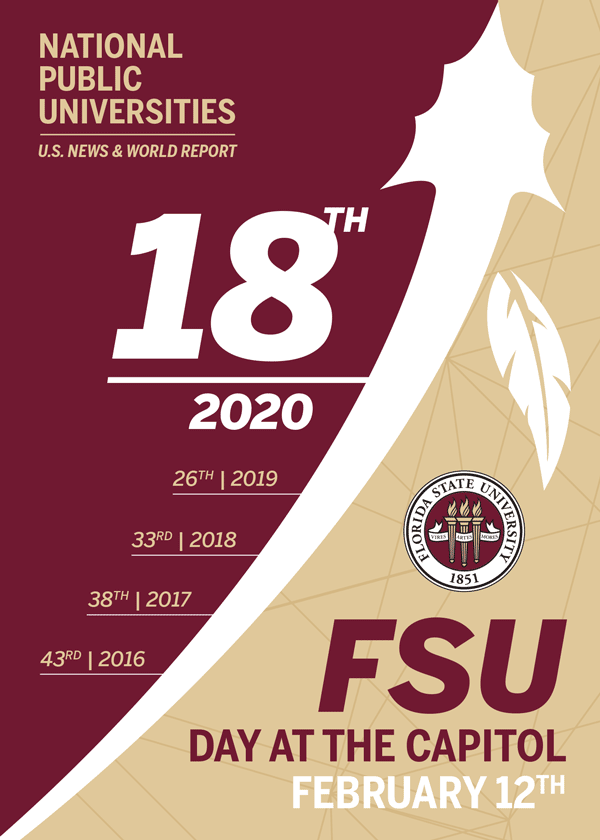 ---
University Lobbying Policy
The Office of Governmental Relations is the official liaison between The Florida State University and local, state and national governments.
Periodically, members and staff of the Florida Legislature request FSU faculty and/or staff to attend committee meetings or to respond formally to questions about certain issues. Employees of The Florida State University who are asked to appear before a committee must notify Kathleen Daly at 850-644-1728 and submit a legislative contact form prior to making their appearance.
Fill out the Legislative Contact Form
If you have trouble accessing this form, please contact Governmental Relations at 850-644-4453 for a hard copy.
title-inside title-centered
2