The Office of Governmental Relations is the liaison between all levels of government and The Florida State University community. Special emphasis is placed on monitoring the Florida legislative process, from which the University receives a majority of its funding. In addition, the Governmental Relations staff is committed to informing the University community of key legislative issues of interest and impact.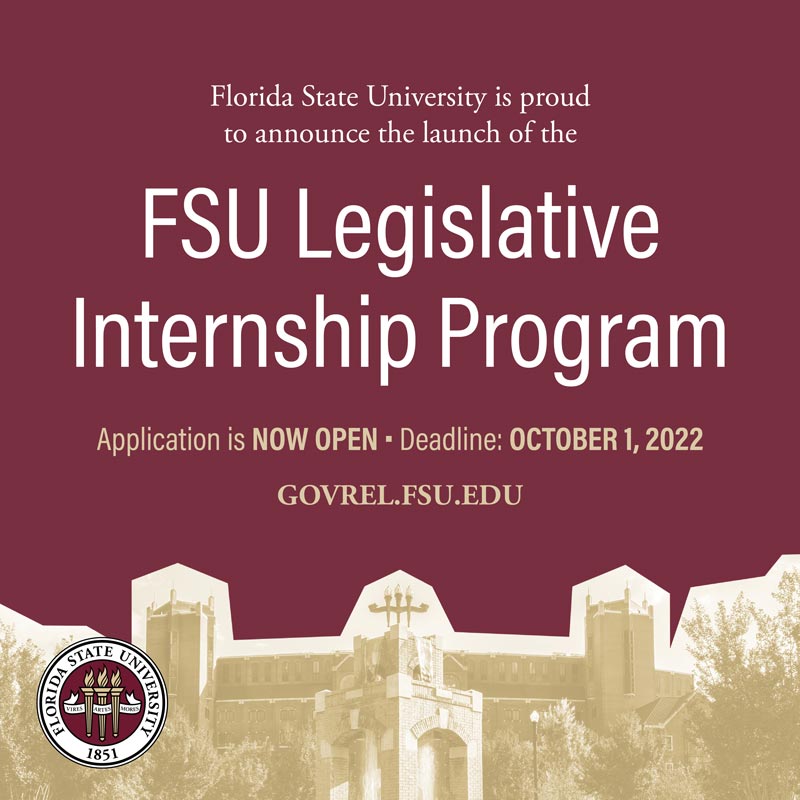 FSU Legislative Internship Program
Florida State University is proud to announce the launch of the FSU Legislative Internship Program. This internship program will provide undergraduate and graduate students at Florida State University the opportunity to gain valuable experience in Florida's legislative process during the 60-day Legislative Session, here in Tallahassee, Florida.
FSU Day at the Capitol
The Florida capitol rocked garnet and gold during FSU Day at the Capitol. Thank you to everyone who took time out of their busy schedules to share the accomplishments of their departments and programs with the legislative community, and to the volunteers who helped make this special day possible. View the pictures from both the Seminole Evening reception and FSU Day at the Capitol.
LegisLetter
If you would like to receive LegisLetter notices, contact us to join the distribution.
College of Medicine
University Lobbying Policy
The Office of Governmental Relations is the official liaison between The Florida State University and local, state and national governments.
Periodically, members and staff of the Florida Legislature request FSU faculty and/or staff to attend committee meetings or to respond formally to questions about certain issues. Employees of The Florida State University who are asked to appear before a committee must notify Lynna Sands and submit a legislative contact form prior to making their appearance.
Fill out the Legislative Contact Form
If you have trouble accessing this form, please contact Governmental Relations at 850-644-4453 for a hard copy.