LegisLetter: February 05, 2018
Volume 25, Number 5
"The budgets are coming, the budgets are coming" – Paul Revere, probably.
The Florida House and Senate completed their committee work on their respective budgets last week. This week, both sides have scheduled full hearings for their versions of the state budget in their respective chambers.
As noted in previous editions, this year the public is not witnessing the same high levels of animosity and "war of words" between the House, Senate, and Governor as last year. However, the House and Senate budgets continue to be far apart in almost every key area.
One example of this deep chasm is found in a budget amendment offered by Higher Education Appropriation Chairman Larry Ahern (without discussion and approved unanimously in committee). It removed all of the funding for Senate President Joe Negron's higher education priority programs (World Class Scholars and Professional and Graduate Degree Excellence) and provided the same funds to Florida's State College System (with a directive that the funds should be spent to increase 4-year baccalaureate degrees).
The amendment was aimed at two of the Senate's top legislative priorities. It did not go unnoticed.
Despite the amendment drama, there remains a commonly held belief by many Capitol observers that the two Chambers will resolve their differences, and Session will end on time.
On another positive note, FSU was able to secure a rare budget amendment in the Senate Appropriations Committee this week to fund the Tallahasssee Veterans Legal Collaborative administered by our law school. We are grateful to Senator Bill Montford and Chairman Bill Galvano for helping us get a step closer to receiving funding for this effective program.
It will be a very busy week for us at the Capitol as we descend downtown for FSU Day. There is a Monday night reception on the 22nd Floor of the Capitol at 5:30 p.m., and a full day of exciting activities on Tuesday. We hope you can meet us in the Capitol Courtyard for lunch at noon. President Thrasher and Coach Willie Taggart will be some of the special speakers.
Once again, thank you for your support of Florida State University. We look forward to a productive and prosperous legislative Session.
Kathy Mears
---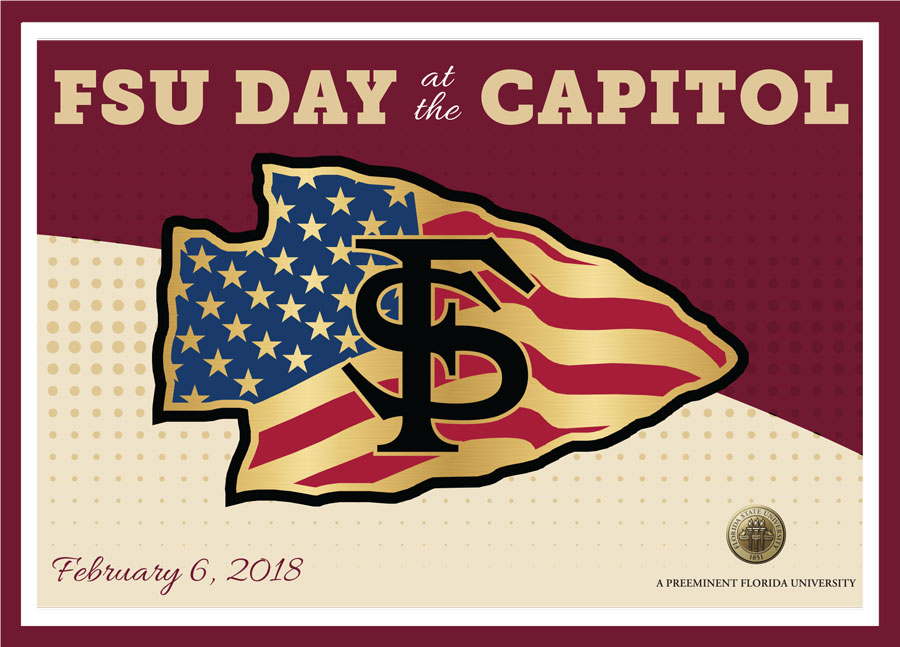 The Veterans Alliance arrowhead is the proud symbol of Florida State University's campu-wide commitment to become a national beacon of veteran support and success.
TOMORROW IS FSU DAY AT THE CAPITOL
Our big day is almost here! After months of planning, FSU Day at the Capitol for 2018 takes place tomorrow and promises to be another great event. As in the past, FSU Day emphasizes the university's proud heritage and spotlights the extraordinary accomplishments of our students and faculty.
Please join us from 10:00 am to 2:00 pm for informative displays on the plaza level and second and third floor rotundas. During the lunch hour, appearances by FSU celebrities and members of the Seminole legislative caucus, and performances by the pep band, and cheerleaders will begin at 11:30 in the capitol courtyard, with refreshments available for all to enjoy.
In addition, our sixth annual "Seminole Evening" reception will be held tonight from 5:30 to 7:30 on the 22nd floor of the capitol. Come by for this meet-and-greet with our legislators.
We look forward to seeing you this evening and tomorrow in your Garnet and Gold!
---
Spotlight on Bills 020518
Update on Bills
CS/HB 909 – Free Expression on Campus by Representative Bob Rommel (R – Naples), creates the "Campus Free Expression Act" (Act), which addresses the issue of free speech on Florida university and college campuses. The bill defines the terms free speech zone, outdoor areas of campus, and public institutions of higher education. It clarifies that an individual's expressive rights may not be infringed upon, and that an institution is prohibited from restricting expressive activities to a particular area of campus and prohibited from designating free speech zones. Protected activities include speeches and writings that an individual uses to communicate ideas to others. These include:
Peaceful assembly.
Peaceful protests.
Speeches.
Guest speakers.
Distributing literature.
Carrying signs.
Circulating petitions.
Video or audio recording in outdoor areas of campus.
Reasonable limits on expressive activities are permitted. However, students, faculty, or staff may not materially and substantially disrupt activities on campus. An institution may restrict expressive activities only if the restrictions are reasonable. The restrictions must be content-neutral on time, place, and manner of expression, and must be narrowly tailored to a significant institutional interest. All restrictions must be clear, published, and provide for ample alternative means of expression.
The bill empowers individuals and the Attorney General to defend free speech rights by creating a state cause of action against the public institution of higher education. The bill was amended to provide remedies for violations include monetary damages of at least $500, court costs, and attorney fees. Additionally, the bill was amended to include a one-year statute of limitations.
The bill reported favorably by the Civil Justice and Claims subcommittee. A senate companion, SB 1234 by Senator Dennis Baxley (R – Lady Lake, FSU Alum), is scheduled to have its first hearing tomorrow in the Senate Education Committee.
Spotlight on Bills
CS/HB 7055 – Education by Representative Michael Bileca (R – Miami), is a comprehensive education bill. Following are aspects of the bill that affect the State University System:
Removes the FSU Learning System Initiative as the only agency responsible for conducting annual student achievement reports (specifies "state university" instead).
Home education dual enrollment participants will no longer have to cover their own instructional materials
Deletes a provision that the private school articulation agreements have to state whether the private school will compensate the postsecondary institution for the standard tuition rate per credit hour for each dual enrollment course.
The bill reported favorably by the Appropriations Committee and is scheduled to be heard by the full House on Wednesday. A Senate companion, SB 436 by Senator Bill Galvano (R – Bradenton), reported favorably by the Education Committee and is waiting to be heard in the Rules Committee.
CS/HB 515 – Offenses Against Student Safety by Representative Frank White (R – Pensacola), makes it a second-degree felony for an authority figure to solicit or engage in sexual conduct, a relationship of a romantic nature, or lewd conduct with a student enrolled at a school, regardless of the student's age. The bill defines:
"Authority figure" as a person 18 years of age or older who is employed by, volunteering at, or under contract with a school, including school resource officers.
"School" as a private school, a voluntary prekindergarten education program, early learning program, a public school, the Florida School for the Deaf and the Blind, and the Florida Virtual School. Facilities dedicated exclusively to adult education, such as colleges and universities, are not included.
Additionally, the bill amends the definition of school in the trespass on school grounds statute to include school bus. The bill allows law enforcement to arrest someone for trespassing on a school bus, after the commission of the crime and without a warrant, if the officer had probable cause to believe the person committed the offense.
A similar bill in the Senate, SB 736 by Senator Dennis Baxley (R – Lady Lake, FSU Alum), has been referred to the Criminal Justice, Appropriations and Rules committees.
HB 5203 – Statewide Travel by Representative Blaise Ingoglia (R – Spring Hill), amends section 112.061, Florida Statutes, pertaining to per diem and travel expenses of public officers, employees, and authorized persons, codifying current travel expenditure limits into law and providing for the public reporting of travel expenditures. Specifically, the bill:
Limits to $150 the amount that may be reimbursed per day for travel lodging expenses for employees of state agencies and the judicial branch under certain circumstances;
Establishes the Statewide Travel Management System (system) in law;
Requires all executive branch state government agencies and the judicial branch to report public officer and employee travel information in the system;
Additionally, requires that all executive branch state government agencies and the judicial branch use the system for purposes of travel authorization and reimbursement.
Requires "reporting entities", which are defined in the bill to include municipalities, counties, local constitutional officers, county school districts, state colleges, state universities, and water management districts, to report monthly, all public officer and employee travel information resulting from an overnight stay in the system;

Establishes a timeline for the Department of Management Services (DMS) to make travel reports for executive branch state government agencies, the judicial branch, and certain reporting entities available for public view;

Requires reporting entities to redact confidential and exempt information from travel reports prior to posting them to the system and provides a process for reporting entities to follow when a travel report has been posted prior to proper redaction; and,
Provides rulemaking authority to the DMS to administer provisions of the section pertaining to the system.
The bill reported favorably by the Appropriations Committee and is scheduled to be heard by the full House on Wednesday. A comparable bill in the Senate, SB 354 by Senator Kelli Stargel (R – Lakeland), reported favorably by the Community Affairs Committee and is waiting to be heard in the Appropriations Committee.