LegisLetter: February 12, 2018
Volume 25, Number 6
What an exciting week 5 for Florida State University as we took to the halls of the legislature to showcase our programs and accomplishments.
It was the perfect week for our increased presence as the House and Senate finished their respective versions of the $87 billion budget. They are now poised to reconcile their differences in the conference process. Both sides expressed optimism for an on-time finish.
Their job was made a little easier because state analysts on Friday adjusted estimates for revenue collections upward by about $462 million, including $181 million this year and $280.5 million for the fiscal year that will start July 1. State economists credited the boost in revenue to additional spending by Floridians, aided by insurance payments, for property repairs after Hurricane Irma.
We are now more than half way through the Session, yet only one bill has passed both chambers and been sent to the Governor. That means the remaining 3144 bills will live or die in the next four weeks. It will be a very active second half of Session. We expect many late night amendments to fast moving bills. We will do our best to keep you updated on legislation impacting the university.
The remainder of this edition of the Legisletter is filled with photos and facts from FSU Day at the Capitol. Thank you to those who participated in this wonderful event. We received many positive reports from elected officials and staff. Many thanks to the hundreds of volunteers who helped make FSU Day a great success.
Kathy Mears
---
Seminole Spirit Fills the Capitol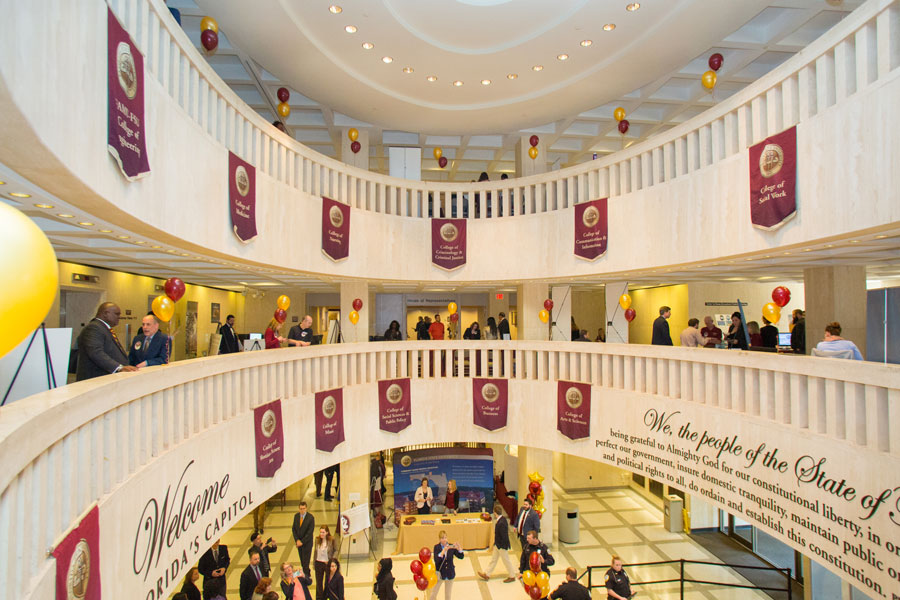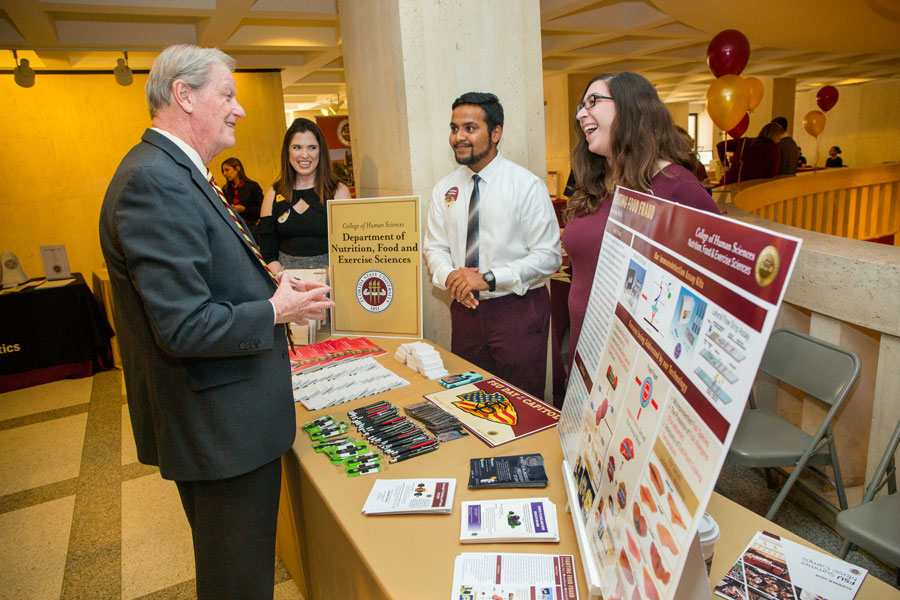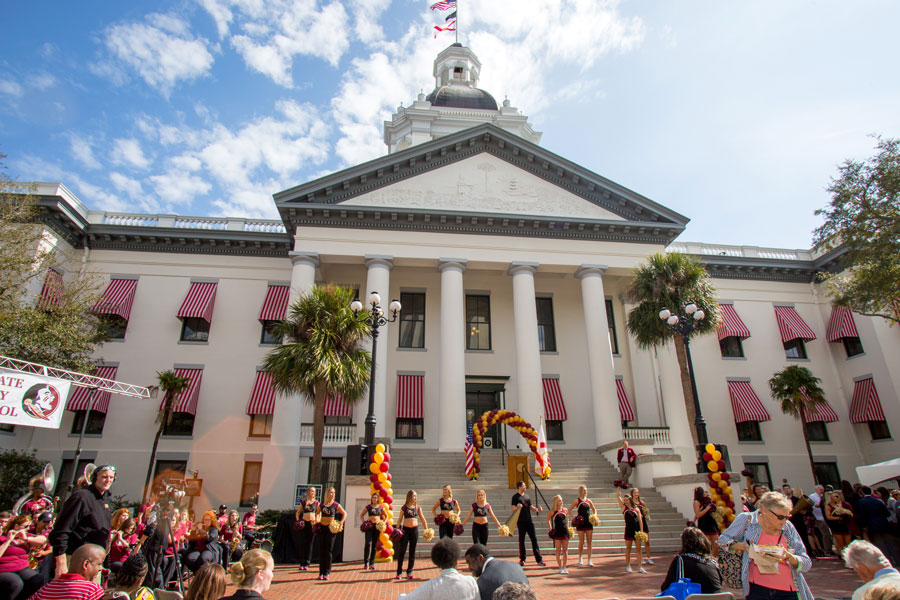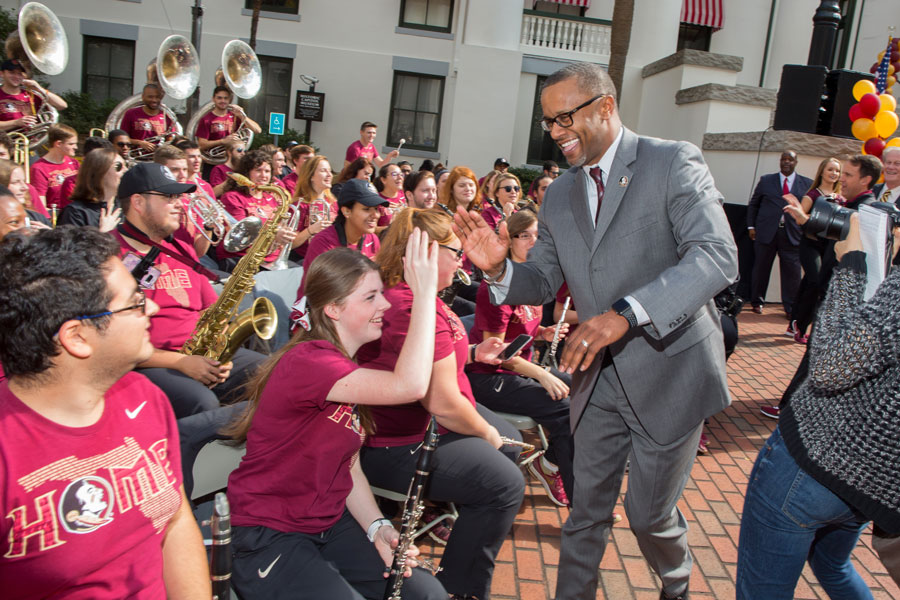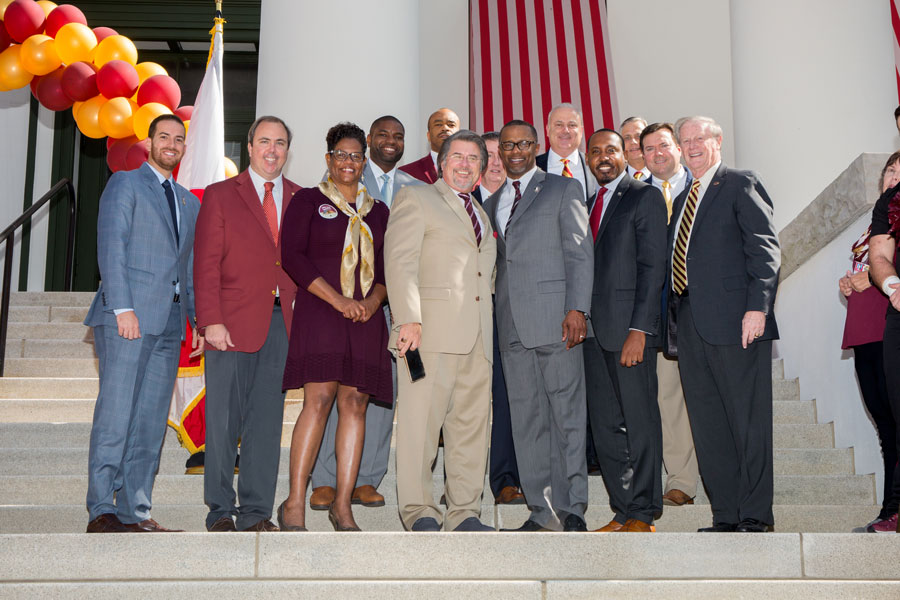 The Florida capitol rocked garnet and gold last Tuesday during FSU Day at the Capitol. Thank you to everyone who took time out of their busy schedules to share the accomplishments of their departments and programs with the legislative community, and to the volunteers who helped make this special day possible.
Special thanks also go out to Tom Block, our emcee for the noontime activities in the capitol courtyard, who introduced the FSU alumni currently serving in the legislature. The Seminole Sound spirit band and the cheerleaders, along with student-athletes Jacques Patrick and Wally Amie, also took part in the lunchtime program.
The festivities began the night before on the 22nd floor of the Capitol with "A Seminole Evening," reception hosted by the FSU Student Government Association. State lawmakers, legislative staff, alumni and supporters gathered with students and other members of the campus community to meet, talk and enjoy wonderful food prepared by Legacy Catering by Sodexo.
FSU DAY STATS
1000 hot dogs served 65 band members in the courtyard 58 FSU groups set up displays 23 Legislative Alumni were honored 16 cheerleaders and golden girls 3 garnet and gold balloon arches 1 new head football coach in the Capitol courtyard.
These special events would not have been possible, of course, without the support of our generous sponsors:
Seminole Dining - Legacy Catering by Sodexo Coca Cola Bottling of Tallahassee 4 Rivers Smokehouse Ard, Shirley, and Rudolph, P.A. J. Keith Arnold Slater and Sara Bayliss Greg and Melanie Black Ronald Book, P.A. and Lauren's Kids Ken Cashin Jorge and Ivette Chamizo Childers Construction Company – Van Champion ContributionLink, LLC – Brecht Heuchan Cameron and Tanya Cooper Dean, Mead, and Dunbar Reginald R. Garcia, P.A. Larry and Mary Carol Gonzalez Lee Hinkle Foley and Lardner, LLP - Robert H. Hosay Jim Horne Johnson and Blanton Nick and Debbie Iarossi Jeff Kottkamp, P.A. Mabry and Associates The Mayernick Group Christopher Moya Moyle Law Firm, P.A. Ounce of Prevention Fund of Florida - Doug Sessions Larry J. Overton and Associates Diana Hadi Padgett, Governmental Consultant Bill Peebles Ron Richmond Sansom Group David Shepp Jim and Carole Smith Guy and Delores Spearman Southern Strategy Group U. S. Sugar Corporation Wilson and Associates